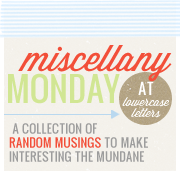 [1] I had an exciting work weekend in Houston ...
ate some yummy sushi and had fun with my new colleagues
enjoyed a great cupcake and adorable milk jug of refreshing milk from
Crave
got to meet Lucky & the Honey Bee this weekend....perks of the job ;)
[2] I have been married for almost 9 months and I can't stop day dreaming of an anniversary trip. We want to get away for a long weekend. Suggestions?
[3] I am now obsessed with Pinterest .... if you're on
obsessed too
follow me
:)
[4] I am making my first trip to LA this weekend and I am so excited! ...pictures to come next week!
Well, that's all for now folks. If you're feeling Miscellany, go link up!